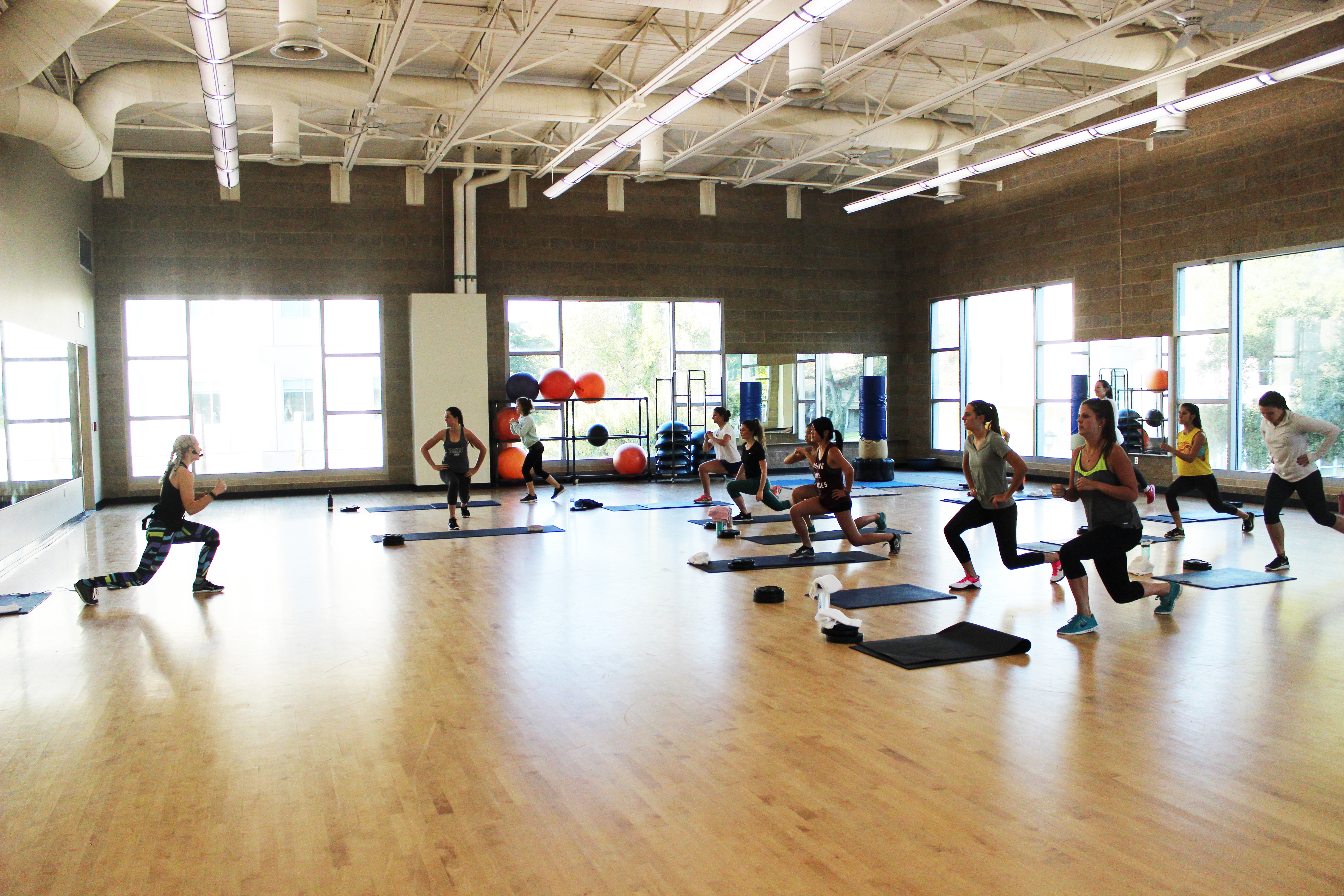 inMotion are group classes that allow members to participate in instructed fitness. These classes are a great way to stay active, have fun and meet new people. inMotion classes are offered during the academic school year and are FREE for students and members.
inMotion group fitness instructors are typically SSU students, although the position is open to everyone.
Participation in the inMotion program is open to all fitness levels!
Classes
Vinyasa Yoga- A breath-centered practice where postures are coordinated to flow from one pose to the next. In the practice of yoga, we link our movement with breath to focus the mind.
Buti Yoga- A high-intensity fusion of power yoga, cardio-intensive tribal dance, conditioning, and deep abdominal work.
Yoga- An ancient art based on a harmonizing system of development for the body, mind, and spirit. The continued practice of yoga will lead you to a sense of peace and well-being, and also a feeling of being at one with their environment
FAQs
How do I sign up for an inMotion class?
All inMotion group fitness classes are free. InMotion participants must be current students or Campus Recreation members. For more information regarding membership prices, please see our Campus Recreation membership and waivers page. 
Where are the classes located?
inMotion classes take place in the Niagara and Silver Strand studios, on the second floor of the Campus Recreation Center.
When are the classes?
Classes are offered at varying times throughout the day. Please see the inMotion class schedule for the current class times and dates.
Do I need experience to take inMotion classes?
No experience is necessary for inMotion classes and everyone is welcome of all skill levels. Instructors will offer modifications to accommodate all fitness and experience levels.
How do I know what to expect in the different classes?
Please see our class descriptions for a brief introduction to each class and the format.
What are the instructors' qualifications?
Our instructors are students, faculty, staff, and community members with past experience teaching group fitness or dance. Instructors teaching specialty classes such as spin and yoga must have a certification specific to their class. Many of our general group fitness instructors also possess a nationally recognized certification for group fitness instruction.
What should I wear to an inMotion class?
Any clothing that allows for easy movement and full range of motion is appropriate for inMotion classes. Athletic shoes should be worn for cardio and strength-training classes while dance and yoga classes do not require shoes. We recommend bringing a water bottle and a towel with you to class. 
Why should I participate in the inMotion program?
inMotion classes offer participants a fun way to exercise. The class schedule offers plenty of variety to allow for cardio, strength, flexibility and coordination gains. You can exercise with your friends in a social environment under the supervision of a well trained and motivating instructor. inMotion classes offer a great alternative to the more traditional exercise routine.