Climbing Wall
Climbing Wall Hours
| Day | Hours |
| --- | --- |
| Summer | The Climbing Wall is Closed until Fall 2023 |
The Climbing Wall welcomes everyone of all skill levels!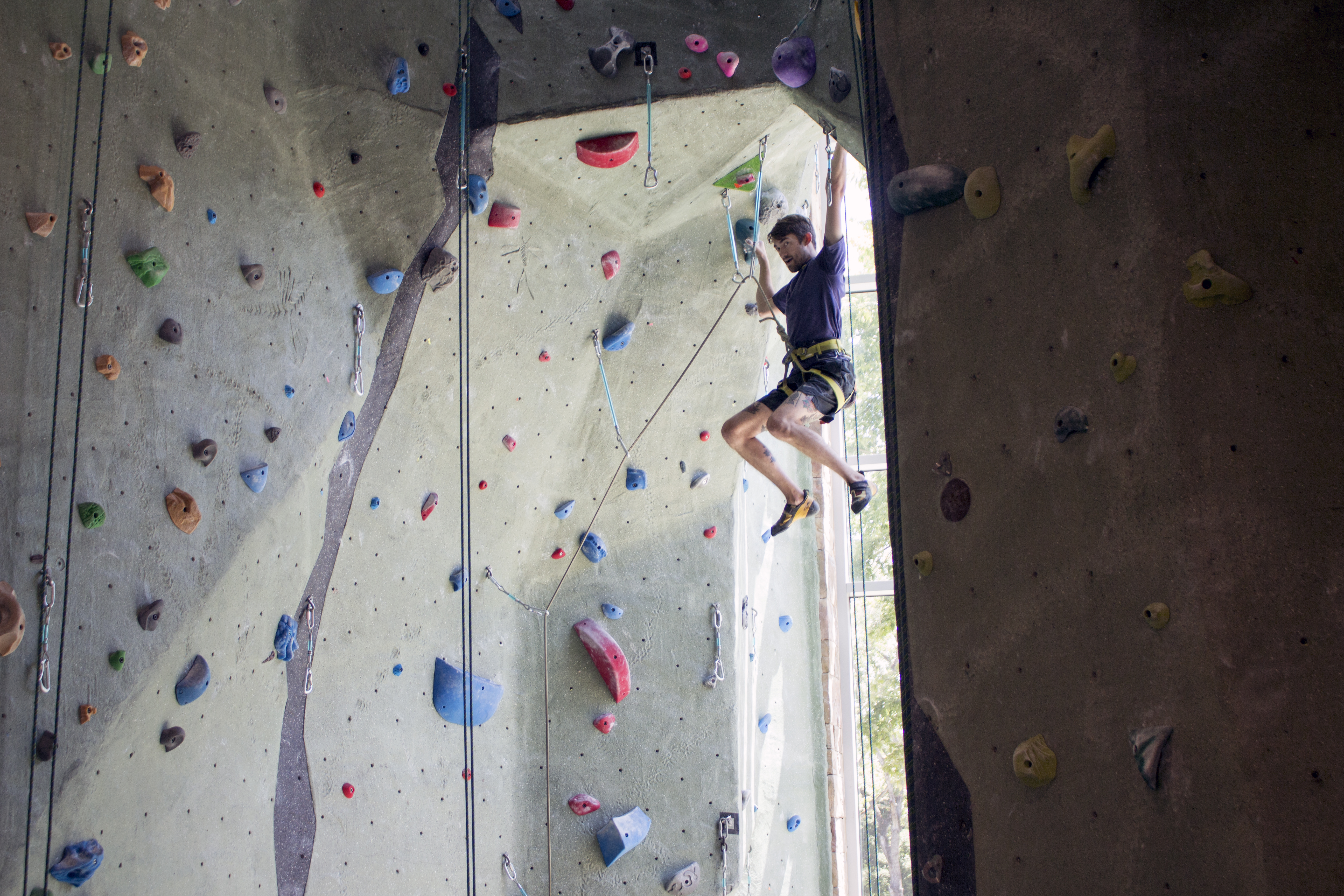 The Climbing Wall is a free resource open to all Campus Recreation members; the wall also offers free rental shoes and harnesses of all sizes.
The Climbing Wall program seeks to create a supportive and strong climbing community that fosters physical and mental well-being for climbers of all abilities while providing climbers with the technical skills necessary for both safety and success in any venue.
Register Today for Climbing Clinics:
FAQs
Do I need any experience to climb?
You do not need any experience to come climb at the Climbing Wall. Feel free to join during open hours and ask a staff member what to do. They will help you get the proper equipment and will be more than happy to help belay you.
How much does it cost to come climbing?
Climbing is FREE to all Campus Recreation members including the gear and experience. However, if an individual is to attend one of the climbing clinics there will be a $15 fee.
What do the numbers on the routes mean?
Roped Climbing Grades: The climbing wall uses the Yosemite Decimal System for its roped climbing routes; the number will be displayed like this - 5.6 - next to a route that goes to the top of the wall. Our gym starts at 5.6 (easiest) and goes to 5.13 (hardest). Routes after 5.9 will also have a letter grade from A to D, like this - 5.10b - this is another tool to indicate increased difficulty.
Boulder problems are graded using the V-scale displayed like this - V3. Our boulder problems start at V0 and increase in difficulty up to V9.
How do I get belay certified?
Belay certifications are required for all climbers who wish to belay their climbing partners in our gym. To get certified you must pass a test administered by one of our staff members, just ask them during our staffed hours. If you don't pass or it is a new skill to you, consider taking our free Intro to Belay Clinic. To lead climb you must pass a separate test that evaluates your ability to lead belay and climb; we also offer clinics on these skills for $15. Intro to belay is still free.